Something for Today - "5 Word MAX Definitions"


Several years ago my district had the opportunity to work a bit with top-notch literacy consultant Amanda Arens. One of her suggestions that I was able to put into practice in my classroom is the notion of putting a minimum number of words on vocabulary definitions. For me, the magic number has been "5 Words or Less".
If you have students struggling to learn vocabulary consider simplifying the task (and improving summarizing skills) by asking students to condense definitions down into "Five Words or Less". This forces students to put definitions into their own words, rather than simply copy them from the glossary or a website. If they do this in groups, then by haggling over what the five words should be, they in fact end up remembering 6-8 words, by remembering the ones they DIDN'T choose as well. These definitions make for quick and easy studying using cooperative learning structures and create a common vocabulary for a classroom to utilize. The grammar isn't always the best, but we'll save that for more complex pieces - the purpose of this is to just learn the meaning of the word!
If you're interested in seeing what Amanda can do to help your school improve literacy, check out her website or click here to email her.

Something For Tomorrow - Courage in Education
Last weekend I had the opportunity to attend my first EdCamp, this particular event occurring at Hixson Middle School in Webster Groves Missouri and dubbed "EdCampSTL". If you're not familiar with the EdCamp concept, it follows in the "Unconference" model in which participants attend for little or no money and come prepared to present material themselves as opposed to having a slate of presenters scheduled ahead of time. There are no keynotes, no nationally renowned speakers, and only the minimal amount of vendors present so as to sponsor the event, thus allowing free entry for conference registrants. Upon arriving, participants are met with blank "sign up" sheets in which they can write their own ideas in about what they might be willing to present or lead a discussion on or simply an idea or question they'd like to discuss. Participants are encouraged to "vote with their feet" if a session is not to their liking, they should get up and go find a different one. Sessions are very informal and more often discussions as opposed to presentations – and without the courage to present or the willingness to participate, the entire endeavor fails. For more on the EdCamp model, click HERE.
Initially after leaving EdCampSTL my thought was "Why isn't this format in use in every school district in America for Professional Development?" The idea is simple enough and would be even simpler to achieve within one's own district. Reserve some classroom space, tell people to show up with ideas for what they might like to learn or what they might like to share, then get out of the way as the two intersect. Professional learning at it's finest, right?
Maybe. As the saying goes "it's difficult to be a prophet in your own land" and the one thing EdCamp has going for it is that all of its participants are there voluntarily. They're coming eager to learn and share, or they wouldn't have come at all. This is not necessarily true in traditional or district level Professional Development. Surrounded by their friends, colleagues and administrators, it's possible teachers would lack the courage to share their needs or ideas for fear of being judged or ridiculed.
While at EdCampSTL, I took the opportunity to share some of what I do in two different sessions -one on Standards Referenced Grading and another on differentiating instruction using student choice. Both were received well, but similar to the Powerful Learning Conference I presented at last month, an odd question came up frequently. "How does your administrator feel about all this?" This was often accompanied by "How do your colleagues/parents/teacher above you feel about all this?" These are valid questions, but it's alarming how rarely people ask me "How do your students feel?" Simply put, teachers have no fear of students – they have an inherent fear of their boss, and potentially, their colleagues.
I once heard Larry Bell say during a presentation "Teachers – what have you done lately that upset your principals? Principals, what have you done lately that upset your Superintendent?" He was driving home a point that the best teachers and principals are the ones who are willing to push the envelope and fight for what's best for children. Dr. Anthony Muhammad told us during a breakout session at the aforementioned Powerful Learning Conference "It goes back to Maslow's hierarchy of needs. You have to ask yourself 'Does my need to keep my boss happy or my need to be liked by this colleague trump my need to do something I believe is best for kids?'" He wasn't judging people and encouraged us that only we can make that determination. I recently heard Rick Wormeli echo the same sentiments – the greatest teachers are risk takers who are willing to make mistakes in their classrooms.
As a teacher, I often find myself talking to students about the need for "positive risk taking." I implore them to raise their hands, I beg them to ask questions, I encourage them to share in groups and I applaud them when they try and fail and try again. Yet – how many educators are willing to take similar risks?
If you're an administrator, I challenge you to ask yourself "Does the culture of my building encourage and reward innovation in the classroom? Do I empower my teachers to be bold, creative and try new ideas? Or have I created a culture of fear in which teachers are forced to cling to the accepted ways for fear of ridicule – never knowing if something better exists?"
If you're a teacher, I encourage you to do as we ask our students – have the courage to take positive risks. Take it upon yourself to be on the forefront of Educational practices. If you have an idea that's not being done in your building, be a pioneer and blaze a trail that may reach students in ways they've not been reached before.
Regardless of how successful your school is or isn't, we should all strive to improve and learn everyday, if for no other reason than to model this behavior for our students. Yet, without courage, their can be no progress. There will always be reasons NOT to push the envelope – let us not let those reasons become excuses for why we lack the courage to help our students.
Students Who Refuse to do Classwork
Our Library and Media Specialist, who also teaches reading a couple reading classes for us, recently emailed me and asked how I would go about handling students who are scoring well on summative assessments but are not completing basic classwork. Her classroom uses Standards Referenced Grading, so the idea is that all classwork, homework, group work, etc is viewed as "practice" with the only thing that's "graded" being the summative assessment. It's very similar to how I run my own classroom. I don't believe distorting achievement data (grades) with punishments for incomplete, missing or late work, so this is a tricky - if common - question.
I told her the first thing I would do is look at their grade on the summative and use that to make up my mind. If they do well without having done the individual classwork, I'd have to reflect personally and ask myself "Was the individual work necessary then? Should I be challenging them more?"

If they do poorly on the summative, there are a couple directions to go. First, I'd discuss it with the student and say "Hey, you didn't do so hot on the test; I notice you didn't do your classwork either. Why not? Do you think you would have done better on the test if you'd done the classwork? So, what do you say you do the classwork that I need you to do and we'll retake the test and see if we do any better?" Then, I'd have to reflect and ask myself "Why didn't they do the individual assignment?" There's always a reason students don't do work, and "Lazy" isn't a sufficient answer. More likely they didn't understand the directions, or the assignment was "too hard" in their estimation so they shut down when they didn't know how to do it. Another possibility is that the assignment was not interesting to them at all. This speaks to the need for student choices - by merely offering choices we can greatly increase the likelihood students engage material. As Dr. Kathie Nunley would say however, sometimes however, the choices we're offering simply aren't appealing enough. If you think we're not in the bussiness of entertaining students, you're right. We're in the bussiness of ensuring they learn at their highest level possible, and if "edutainment" is the means to that end, aren't we obligated then to give it a try?
Why Differentiate Instruction? Consider This...
Earlier this month I had the opportunity to spend an afternoon learning from a gentlemen I've long since admired, Rick Wormeli. Wormeli is one of the nation's leading instructors on Differentiated Instruction and is a highly entertaining individual. While I intend to write more about Mr. Wormeli later, it was this cartoon which jumped out at me immediately as a powerful piece.
Many of us have seen this cartoon before...how many of us knew it was created in the 1960's? According to Rick Wormeli, that's exactly the case. Thanks to Joe Bower and his blog For the Love of Learning for this picture and the quote.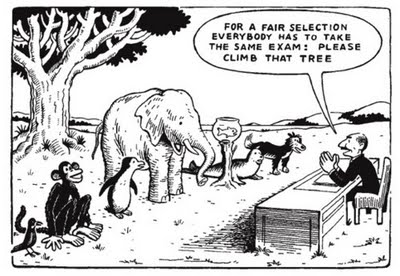 "Everybody is a genius. But if you judge a fish by its ability to climb a tree, it will live its whole life believing that it is stupid."
-Albert Einstein
According to Wormeli, who is paraphrasing Carol Tomlinson, there are five basic ways teachers can differentiate instruction.
1. Content
2. Process
3. Product
4. Affect
5. Learning Enviornment
This is similiar to what I wrote on Edunators.com when I spoke of Three Easy Ways to Differentiate Instruction. While I didn't put it in quite so eloquent terms, I was essentially eluding to Content, Process and Product. Teachers can usually find a way to change what students, how students learn, or how they demosntrate understanding. The other two are a bit more complicated, though certainly not impossible.
Later this month, I'll be reflecting on my afternoon with Rick Wormeli, as well as EdCamp St. Louis and the Powerful Learning Conference. Stay tuned to Edunators.com to check that out!